The Yuletide season at mother-daughter aromatherapy company Rachael Lane is a joyous time of year as their 2021 holiday collection shows.
With a range of hand-poured essential oil candles and an all-natural body soap, their holiday scents are perfectly curated to embody the joy of Christmas in Jamaica, says co-founder Jo-Ann Morris.
"Right now we have a holiday collection with three different candle scents. We have Fireside, which surprised me and became the best-seller; Bayberry and Spiced Candy," she tells LetsTravelCaribbean.com.
Fireside, according to Morris, features a calming, earthy aroma. It is a refreshing spa-like scent made with eucalyptus, palo santo, cedar, and violet essential oils "which is reminiscent of Christmas".
For those wanting the "freshness of nature at Christmastime", Rachael Lane's Bayberry candle is the perfect holiday gift. Made with a blend of eucalyptus, fir, cypress, and bayberry, it evokes memories of the traditional Jamaican Christmas tree.
Like the other candles in the holiday collection, Spiced Candy is an "earthy, inviting scent". It is Rachael Lane's "modern take on cinnamon treats". Using a blend of cinnamon, nutmeg, peppermint, and cedar, the aromatherapy company is doing its part to conjure up happiness in homes at this time of the year.
The Mistletoe bar soap, also a part of the holiday collection, is the perfect Christmas treat. It's made with all-natural essential oils such as clove, patchouli, cedar, and eucalyptus. If the fresh December morning air entices you, not only does the Mistletoe bar soap mimic the crisp mountain air of the holiday season, but it also features a deep woodsy scent.
Along with her mother Charmaine, Morris runs the aromatherapy company out of Kingston, Jamaica. Their products include candles, air fresheners, hand-made body soaps, body scrubs, and body lotion.
It all began when Morris, then a junior architect of six years, was made redundant. She decided to take a leap of faith.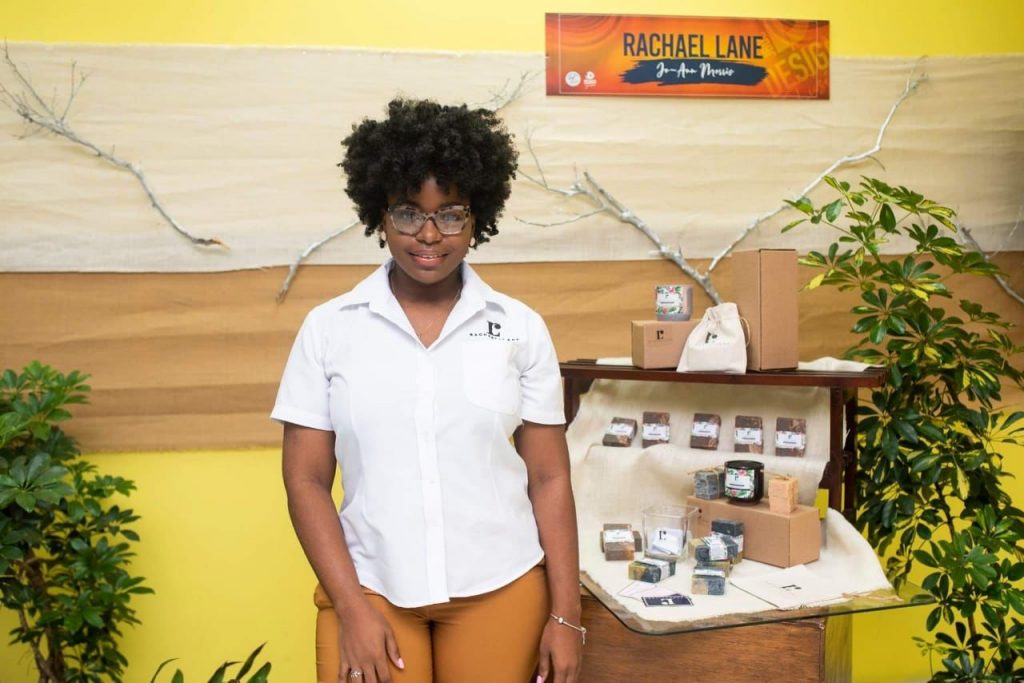 "My mother is very creative and she started experimenting with soap making. We were gifting the soaps to people… and we were getting really good feedback," she says.
"Around the same time I started experimenting with candle making with a small bag of wax that I bought online. We were playing around with it for a year and in 2019 I was going to be made redundant from the airport, so I told her that I think now is the time to try this and see where it goes," she adds.
The meaning behind the name of the aromatherapy company, Morris tells LetsTravelCaribbean.com, is a representation of the mother-daughter duo's close bond.
"I just wanted something to represent us. My mother's middle is Rachael and mine is Elaine, so I just joined them and came up with Rachael Lane," she explains.
Where to buy Rachael Lane's holiday collection and more:
The Collective inside the popular Main Street Jamaica mall in Rose Hall, St James
The Jamaica Aromatics store located in the Sangster International Airport in Montego Bay
The Life Store Wellness Boutique and KW Bloom Box in Kingston
IG: rachael_laneja
Website: rachaellaneja.com