ALREADY known for its extensive range of outdoor activities, Chukka's Eco-Adventure Outpost has even more in store for those who visit its Good Hope, Trelawny, location in 2022.
There's good news, for example, for adventure lovers who also crave a bit of pampering. Early in the year Chukka will add riverside cabanas, strategically placed to provide a breathtaking view of the Martha Brae River. The cosy enclosures will provide a VIP experience that includes personalised concierge service.
These new offerings will be welcome news for guests who have long enjoyed the attraction's more relaxed activities such as the leisurely, one-hour guided walk through the 250-year-old aqueduct, lime kiln and aviary grounds. But Chukka's Eco-Adventure Outpost also intends to maintain its reputation as an adventure-packed attraction for thrill-seekers.
Whether bamboo rafting and tubing on the Martha Brae River, soaring through the jungle canopy across the property on ziplines, or sliding into the welcoming, easy-entry swimming pool that leads to a 50-foot waterfall, Chukka caters to the adventurer in everyone. Tucked away in the lush forests of Good Hope in Trelawny on a 2,000-acre plantation just on the edge of Jamaica's famous Cockpit Country, it's not an experience easily forgotten.
During our recent trip, Property Manager Sameer Sterling and his team showed us why the attraction is so popular.
A mere 10-minute drive from the reservation desk, the historic Martha Brae beckoned. First on the agenda was river tubing, a 45-minute glide along calm waters as our guides Anthony Stewart and Kemar Amos shared engaging Jamaican folk tales and the rich history of the Martha Brae. Legend has it that a Taino witch by the name of Martha was tortured by Spanish settlers until she revealed the location of a stash of gold hidden along the path of the river.
The calm of the river was in stark contrast to the next activity: ziplining. Pre-pandemic there were 17 lines, now there are five so it may take you a while longer to get in on the fun. It's definitely worth the wait! The Chukka team's big on safety so there's a fairly comprehensive briefing provided as those brave enough for the challenge are escorted to the starting point. The expert team of Richard Burke, Tevin Poyser and Levaughn Gordon will strap you into your harness and keep you safe throughout the experience.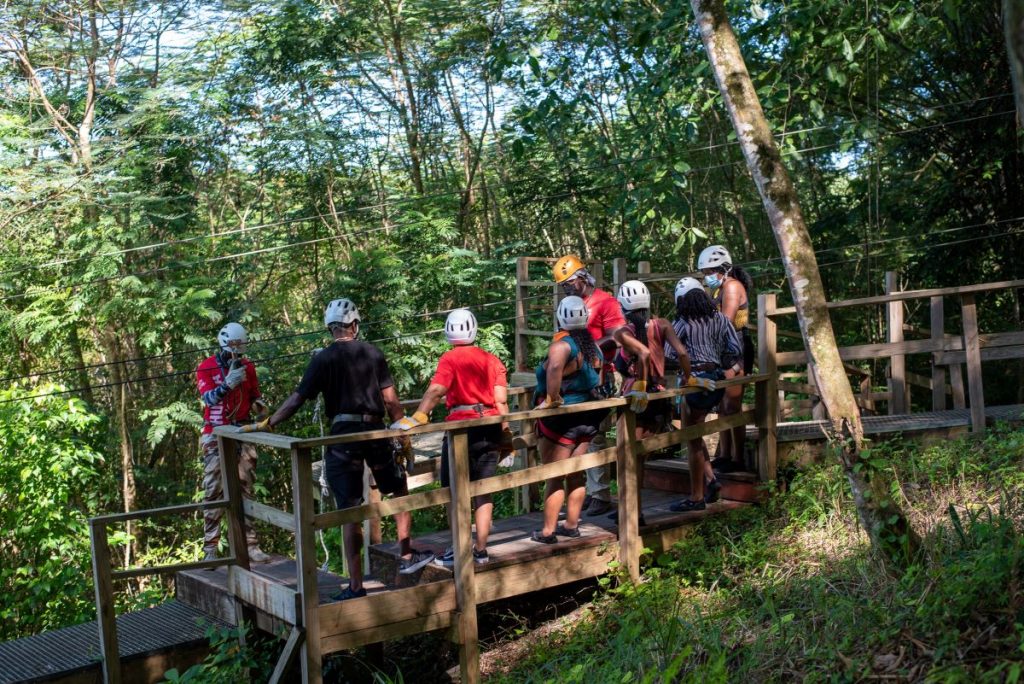 You will find that you work up quite an appetite while having fun at Chukka Good Hope but the good news is that the food is fabulous there! They serve an authentic Jamaican lunch of jerk chicken with festival and rice and peas, all washed down by a lip-smacking fruit punch. Good thing we had a hearty meal as the last event of the day was rum-tasting.
It began with a short documentary on the Joy Spence Appleton Estate rum-making process and then we sampled three different blends of the well-crafted Jamaican rum. There are renovations being made to the Appleton Estate Jamaican Rum Tasting Room as Chukka ensures guests receive an authentic experience during their visit. Also planned is a Jamaican rum museum and history centre for those who want to learn more about the fascinating story of rum in Jamaica — just one more thing to look forward to at Chukka Good Hope in 2022.