Wedding consultant Shikima Hinds explains the question many of us have been dying to ask.
Have you ever wondered what the difference is between a wedding planner and a wedding designer? Who does what? Should you consider hiring both?
I often hear couples interchange the terms wedding designer, wedding planner and wedding coordinator. A planner is almost always a coordinator, but a coordinator is not always a planner. A planner can be a designer as well, but a designer is not always a planner or a coordinator. Some professionals are all in one.
Confused? Understandably so.
The roles of planners, designers, and venue coordinators may overlap but they are also very distinct. Few couples need all three on their wedding day; some may need one or two — it all depends on your plans and wedding goals.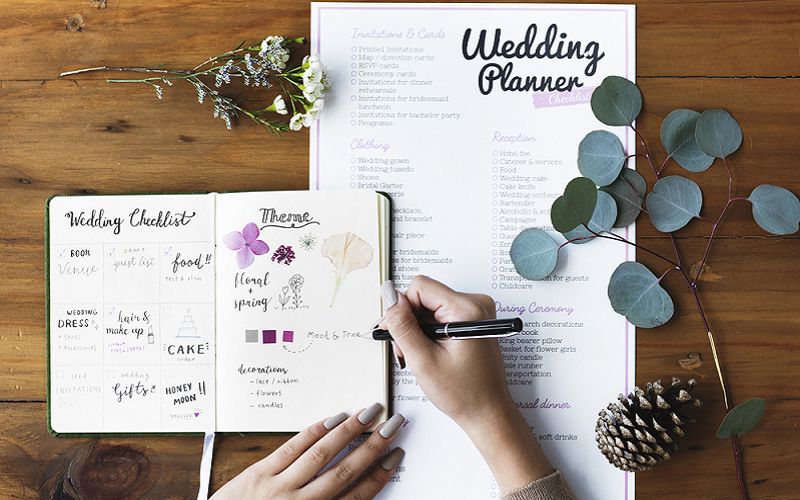 The wedding planner
Wedding planners have one priority: Making sure your wedding runs smoothly. Wedding planners are experienced professionals who plan, organise and coordinate the logistics of a client's wedding, bringing the wedding vision to fruition, and your wedding planner is involved from the very beginning of the planning process.
The planner is in charge of bringing together all the elements that make up a wedding day, from sourcing and liaising with venues, assisting with budget creation and management, managing the wedding suppliers, wedding day timeline.
On the actual wedding day, the planner will coordinate the suppliers, ensure the event runs on schedule and resolve any issues if and when they arise.
Planners, depending on the level of service they are hired for, are likely to plan most, if not all, of the elements of your wedding from start to finish and can also act as trusted advisors on everything wedding related to the wedding itself.
The wedding designer
A wedding designer or stylist is responsible for the overall visual aesthetic of the wedding. The wedding designer will take your wedding ideas and use that to inspire a wedding concept (basically, the look and feel). They generate the wedding design and décor concept and how that concept will be threaded through each visual element. The designer will create colour palettes and consider all the visual elements such as florals, linens, furniture, lighting, backdrops, etc, to create the look and feel of the event.
Designers, in other words, think in terms of the big picture.
When it comes to the actual event, the wedding designer will be in charge of set-up, overseeing visual suppliers and styling the ceremony and reception spaces so they look perfect.
Hiring a wedding designer is definitely something to consider if you have a blank wedding space. They are also helpful for couples who have a vision of how they want the wedding day to look, but aren't sure how to make it all come together, or have an idea for an amazing wedding, but don't have a specific picture in mind of quite what that is.
The (venue) coordinator
Your venue coordinator is your venue liaison who will assist you to ensure the smooth running of your day — but only for things that fall under the remit of the venue. Wedding planners and venue coordinators work side-by-side to make sure everything flows smoothly.
What is the difference between a wedding planner and a wedding designer?
Wedding planning is an all-encompassing job; a planner will know intimate details about your wedding in order to ensure that you are stress-free. The wedding designer only focuses on the design entities and vendors involved with that, focusing solely on aesthetics and not any of the other wedding details and timelines.
The industry has started to separate the design from the logistics.
Some wedding planners are skilled stylists themselves, though others bring in a stylist as part of their team to look after the more creative elements.
When thinking about hiring a wedding designer, planner, or coordinator it's important to understand what your needs and desires are and which ones provide the type of services you want.
Happy planning!